ABO and NCLE Review Lessons

Professional development begins by achieving American Board of Opticianry (ABO) and National Contact Lens Examiners (NCLE) certification and helps others recognize that the optician or contact lens technician has met a national set of standards. The online lessons provided on this website are a review of the fundamentals needed to help you prepare for the ABO and NCLE exams.
All 37 of these programs consist of slides, audio, speaker notes and a quiz. Turn up the volume on your computer, give the program a moment to load and simply sit back and listen to the lesson. Click here or on the image below to view a sample of a complete lesson and quiz.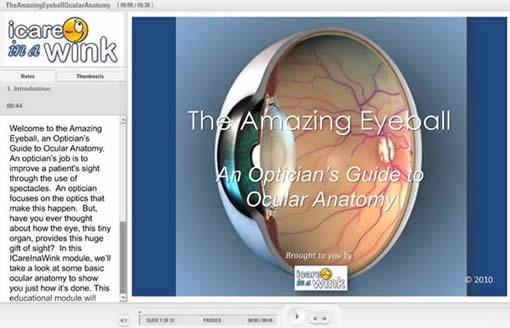 Without these training modules I doubt that I would have passed my certification test. With them I achieved my goal! 2010 ABO Certificant
Subscribe

The ABO or NCLE tracks are available for as low as $49.00 a month or $99.00 for 3 months. We've listed the lessons and topic areas below! To subscribe, click here to "Create" your account and make your purchase.


I Already Have an Account... Access Courses Here

To view the courses login and click here to access ABO lessons and/or NCLE lessons

ABO Review Lessons
1) The Amazing Eyeball: An Optician's Guide to Ocular Anatomy
2) From Paper to Lens: Understanding a Spectacle Rx
3) Building Blocks of Eye Care: Understanding Refractive Errors
4) Let There Be Light: Light Theory
5) It's All About Lenses: Lens Characteristics
6) Straight Story About Base Curves
7) ABCs of Prisms
8) XYZs of Prisms
9) The Fabric of Lenses: All About Materials
10) The Shape of Lenses: Types and Designs
11) Maximizing Vision: Tints and Coatings
12) Fashion Fit and Function: Selecting the Best Frame
13) The Frame From Front to Back: Frame Parts
14) My Ears Aren't Straight: Frame Adjustments
15) The Frame Toolbox: Tools and Repairs 
16) Focus on the Lensometer
17) Regulations and Regulators
18) I Care About Service: Professional Lens Dispensing
19) I Want My Old Glasses Back: Problem Solving
20) 100 Question Practice Quiz

NCLE Review Lessons
1) The Amazing Eyeball: A Contact Lens Professional's Guide to Ocular Anatomy
2) The Eye's Window: The Cornea
3) Big Words Made Simple
4) Straight Talk About Astigmatism  
5) Building Blocks of Eye Care: Understanding a Spectacle Rx
6) Contact Lens Material Families
7) Little Pieces of Magic: Contact Lens Options
8) Focus on the Keratometer  
9) Mapping the Cornea: Corneal Mapping
10) Focus on the Slit Lamp
11) Simplified Soft Toric Lens Fitting
12) ABCs of Soft Lenses
13) ABCs of GPs  
14) The Beginning and the End 
15) TLC for Contact Lenses: Lens Care and Handling
16) The Solution's the Solution
17) Checking In: Lens Verification 
18) Regulations and Regulators
19) 100 Question Practice Quiz